In New Mexico, if you want both green and red chile on your enchilada, you ask for "Christmas." And I did just that on several occasions during our recent trip to our future home state.
Meal #1
After a day of traveling and some snafu with our hotel room, we had supper at the hotel restaurant. We hadn't eaten anything other than snack foods for about 14 hours, and we were famished. We figured it would be quicker and easier to eat in the hotel than to go out and find a restaurant in an unfamiliar city. Wrong-O. A "Dream Catcher" margarita (orange and raspberry flavors) kept us occupied for a bit as we watched the Maryland UWV game on the bar TV, but we soon wondered if the kitchen had to slaughter a cow to make our burgers. After what seemed like an eternity, the burgers arrived and we set upon them, famished. They were billed as 8oz burgers, but they seemed larger than that, maybe 10oz. I had some nice sweet potato fries as my side, while DH went for the ordinary type. The burgers were not medium, as ordered, but we were so hungry and had waited so long, we didn't say anything about their abysmally dry consistency. A real shame, because the beef seemed of high quality and would have been tasty had they not been overcooked.
Meal #2
The next morning we had breakfast at the recommended
Weck's
, located almost walking distance from our hotel. (Although it's hard to walk most places where there are no sidewalks. Abq is mostly sprawl.) DH had a breakfast burrito, Christmas, and I had the green chile chicken enchiladas, smothered with both red and more green chile, plus a fried egg and hash browns. Frankly, I make better red and green chile. These were fairly bland, and the boiled chicken was completely without flavor. The pork in the burrito was tender, but didn't have all that much flavor either.
Meal #3
Dinner was at another recommended restaurant,
Sandiagos
, where we fared much better. The popular restaurant at the base of the Sandia Peak Tramway offered several different flavors of margaritas; we opted for the
blood orange version
. I could become an alcoholic very easily at this altitude. Two margaritas barely made an impact on me at 7000 feet, whereas one would render me silly at sea level. With our drinks we had unctuously rich
guacamole
, and savory beef-filled green chile stew appetizers. Our entrees were a somewhat underwhelming
snapper Veracruz
and a flavorful
pollo adobo
with a great red chile bbq sauce that I would like to attempt to duplicate at home. Dessert was a
chocolate cinnamon flan
, and a
cheesecake brownie topped with dulce de leche ice cream and chocolate and caramel sauces
. I was also tempted by a coconut margarita, but was wary of finding out that the third drink is the one to make me blotto.
Meal #4
Seven years ago, while on our honeymoon, we twice dined at
Tortilla Flats
, a small New Mexican restaurant housed in a former Weinerschnitzel (West Coast hot dog chain), where we had really tasty carne adovada and monster breakfast burritos full of chorizo and egg. On our recent day trip to Santa Fe, we made a point to find Tortilla Flats for lunch. In the past year, the place had been completely physically transformed into a much larger, adobe style building, but luckily the menu had remained the same. We both went for the combination platter which included one cheese enchilada, one tamale, one chicken taco, beans, and posole. We opted for the colorful Christmas-style saucings, and sopapillas rather than tortillas. I now understand why New Mexicans eat the fried tortillas topped with honey alongside a savory meal - the honey brings great depth to the chile sauces, particularly the red.
Meal #5
Back in Albuquerque that night, we went to a local pizza joint called Scarpas, where we had the first real vegetables of the trip so far - salad. Ok, lettuce isn't much more nutritious than water, but it was green and it wasn't chiles. In fact, we were pretty sick of chiles at this point, so Italian food was a nice change. DH had a pasta Sorento with oak grilled chicken breast, garlic butter, parmesan, and roma tomatoes. The chicken had a nice woodsy flavor, and there was a generous amount of garlic on both the pasta and the accompanying garlic bread. I ordered a cheese pizza with meatballs. The crust was wafer-thin and crisp edged, but the underneath was as white-bellied as I am, making for a nicely soft and foldable crust. The marinara sauce was very flavorful, a nice change from the usually bland pizza sauce I've encountered in the past; the meatballs, supposedly made in house, had that odd chewy/gristle texture that commercial frozen-in-a-bag meatballs have. For dessert, we had something called torta mele, puff pastry topped with sliced apples, cinnamon ice cream, chocolate shavings, and home made caramel sauce. The pastry reminded me of a childhood favorite treat - Pepperidge Farm frozen apple turnovers - and I would have been happy with a wheel of the pastry with some ice cream. Everything else was overkill, but it tasted good anyway.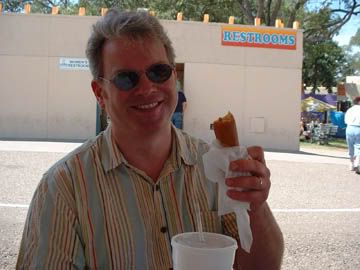 Meal #6
The following day found us at the New Mexico State Fair. I thought it would be a bit of a bust, but we actually had a pretty good time. We also had our first ever corndogs, big juicy dogs coated in a batter that reminded me of hush puppies, and deep fried. Mmmm! Greasy and good! We also split a bbq beef brisket sandwich that had somewhat tough beef on a surprisingly good roll. And for dessert, we split a piece of peach strawberry pie from
Asbury Cafe
, a la mode, of course. It's really amazing how much difference a quality pie crust makes to the overall success of a pie. This one was made with care, flaky, if a bit pale/underdone for me, with a filling of sweet peaches and strawberries that went surprisingly well together. And I was happy for an opportunity to eat a fruit I am otherwise allergic to (peaches, when raw).
Meal #7
This time, we opted for a sushi dinner at
Samurai
, not too far from where we were staying in Albuquerque. We had a few rolls and some nigiri, the standout being the "Key West" roll of shrimp tempura topped with seared white tuna and spicy mayo. The tuna was melt-in-your-mouth tender, and the spicy Japanese mayo had an intriguing smoky edge to it. The nigiri - yellowtail, albacore, striped bass, and halibut - were all impeccably fresh and tender. The low point of the meal was a weird version of the standard "Rock and Roll," this one with very little eel inside plus a huge chunk of tamago (sweetened omelette) and a too-sweet eel sauce. It wasn't bad, per se, just very sweet and eel-deficient for my tastes.

Meal #8
Since we were heading North to Bandelier National Monument, we thought to have a big breakfast and popped into the nearby
Village Inn
for pancakes, bacon, eggs, and coffee. Simple and hearty breakfast fare.

Meal #9
This was to be our last dinner in New Mexico, and I hadn't yet tried a green chile cheeseburger. DH found a listing in the very useful Abq phonebook for a place called
Doc & Eddy's
that offered what I was hungry for. Unfortunately, the place was a bar with lots of pool tables and a mediocre menu. I did get my green chile cheeseburger, made with a frozen patty and not enough chile, but it was moister than the hotel burger, cooked to medium, and satisfying enough. DH eschewed the chile for bacon and mushrooms, and who could blame him?
Meal #10
Our last meal in Albuquerque was another breakfast at the Village Inn. I went for the breakfast burrito this time, Christmas-style, and was happy with the savory chiles. Poor hubby had a cold for the entire trip, and by this time had lost his sense of taste. His breakfast was merely a textural sensation.
Now we're back home and meals will consist of mostly vegetables, to make up for the lack of them on our trip!